Dolphin Commercial Kitchen Equipment
In partnership with Dohplin Co., Ltd., Foodmach offers select Rack Conveyor and Door Type Dishwashers for your various dishwashing and ware washing food service requirements.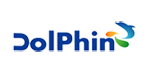 Dolphin Co., Ltd. is a leading Commercial Dishwasher manufacturer in Korea for over 27 years. Their market share exceeds 40% over in Korea through 64 local sales agents and sales volume reaches ten thousand units annually. They have exported hood & conveyor dishwashers to more than 20 countries including the US, Japan, the Philippines and numerous other countries.