Unox CHEFTOP Countertop Electric Combi Oven XEVC-0511-EPRM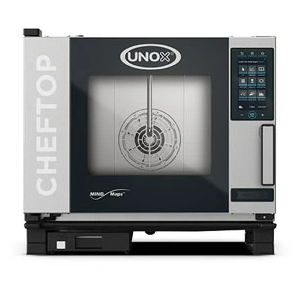 Technologically advanced combi oven for gastronomy cooking processes (dehydrating, steaming, low temperature cooking, sous vide cooking, roasting, grilling, pan frying, regeneration and plate regeneration) and for fresh or frozen baking thanks to Unox Intensive Cooking and Intelligence Performance technologies which guarantee perfect results and repeatability for any load size.
Automatic management of cooking processes (CHEFUNOX) for perfect results even without trained staff.
QUICK FEATURES
— Power supply: Electric
— Number of trays: 5
— Tray Size: GN 1/1
— Dimensions: 750 x 783 x 675 mm (W x D x H)
Supplied, Repaired, and Maintained by FOODMACH, INC.
We are happy to provide you more details about this product including pricing, availability, logistics, and also share with you alternatives/options which may better suit your requirements.
Tap the INQUIRE Tab from the sub-menu below and contact us at Foodmach today